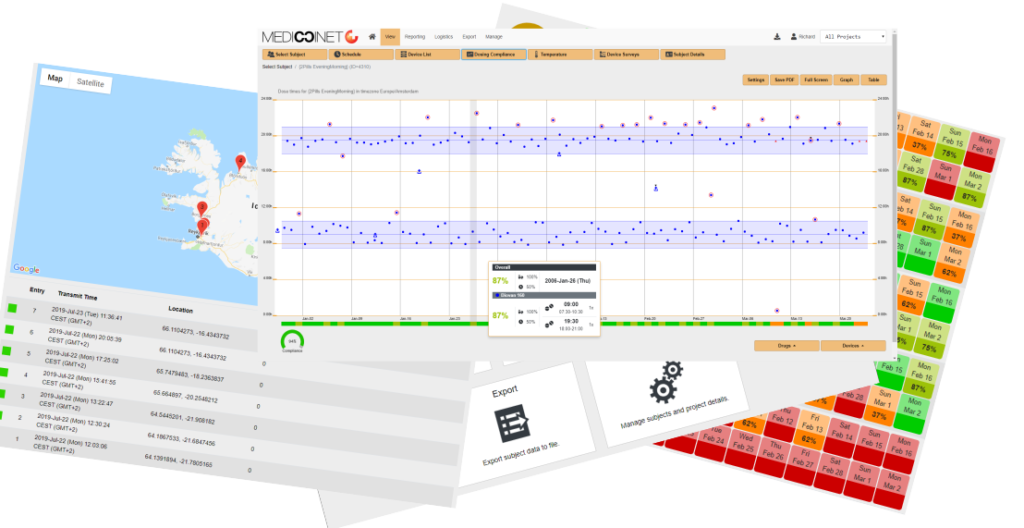 The Mediccinet™ database is the nerve centre of our system. This database which is accessible via the Internet for authorised people stores the logistical information about all smart devices in the field as well as keeping track of the user and product IDs. The database is accessed when authorized users are handing out smart devices to subjects and the stored information is used to program the devices. Similarly when MedicciScan™ or MedicciApp™ read a smart device the data received can be sent to this database. The database can also generate and transmit patient reminders and medication leaflets.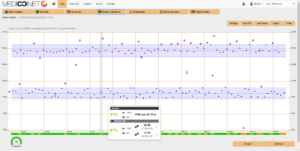 Mediccinet™ stores the software which authorised users can download for their smart phones or PCs.
Data stored in the database can also be accessed via a web interface application on a PC or smart phone by authorised users. In this way the data stored can be searched, viewed in detail, printed and analysed.
In addition Mediccinet™ takes care of user management and assigns user names and passwords to authorised users.
The Mediccinet™ database can be coupled with existing product databases.
There are a number of different levels of authorisation so that the user only gets to view the data that they are authorised to view.
Features
Receives patients compliance data from Smart packages
Generates and transmits reminders to patients Smartphones – eNotifications
Generates and transmits medication leaflets to patients Smartphone – eLabel
Programmable patient medication regimens
Secure connection with MedicciApp™and MedicciScan™
Centralised database for PC and smart phone apps software
Secure login for authorised users via web interface application
Various levels of authorisation
Logging of all smart devices in the field
Logging of all app and software downloads
Logging of all subjects and products
User/password management features
Web interface application for displaying, analysing and printing data
Can be linked with other databases
Scheduled Doses

Compliance Report