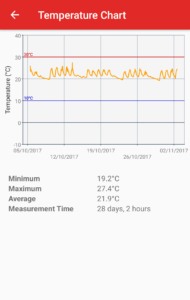 TempyTags can be scanned and read out by NFC enhanced smartphones on which the TempyApp™ has been installed.
The user touches the TempyTag with the phone and the data stored in the device (temperatures, alarms, shipping info etc.) is transferred via the NFC interface to the phone where it is stored and displayed. The phone can also set up a secure Internet connection with the TempyNet™ database (password protected) so that the data can be sent for remote storage or further analysis.
Key Features
Android OS phone app
Downloadable from TempyNet™
Autolaunches in proximity to TempyTags
Displays data stored in TempyTags
Secure connection for sending encrypted data via the Internet to the TempyNet™ database
ECCT's TempyApp can be customized to suit specific customer requirements. Contact us for further information or for a free trial of the TempyAppTM smartphone app.